It's summer, 1955, in the piney woods of East Texas where local men wander into Charlesetta's Top o' the Hill Cafe almost every night for comfort, solace and companionship. Times are changing, the Klan is active and young black men have been disappearing or turning up dead. This night, Delmus wants to celebrate getting a new job but the other regulars are skeptical. They try to warn him as they joke, feed the jukebox and play cards until betrayal catches all of them and life at Top o' the Hill is changed forever.  *Contains adult language. If you have questions about content please call 404-532-1901
ext 201.
RELATED EVENTS
June 22nd at 12pm | Community Conversation: Preserving the Legacy of African American Men
These conversations are the springboard for the themes and issues presented in the plays we produce. Hosted by Associate Artistic Director, Jamil Jude, the conversations bring subject matter experts and the community together for 90 minutes of sharing and learning.
July 28th at 7:30pm | Cast Talk Back
Join us post show for a moderated conversation with the artists to learn more about the work and hear some unexpected stories behind its creation.
July 31st at 6:00pm | Deep Dive
Learn more about the play with a deeper look into the artistic process.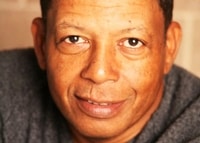 Eugene Lee
Writer & Director