The Huntington Theatre Company is thrilled to be the Boston home of the August Wilson Monologue Competition!
In 2016-17, our seventh year, we're continuing to expand the competition!  The Boston Regional August Wilson Monologue Competition uses a pyramid structure beginning at the classroom level.  Classroom winners advance to a school-wide competition and the top student from each school moves on to the Boston Regional Competition at the Huntington Theatre Company in Boston.  The first, second, and third place finalists at the Boston regional level receive scholarship prizes of $500, $250, and $100 respectively.  Judges at the school and regional level include actors, directors, and playwrights from Boston's vibrant theatre community, as well as Huntington Theatre Company staff and board members, and local leaders in arts education.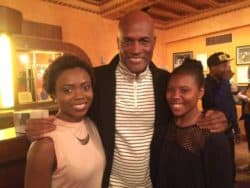 The competition is open to students of all backgrounds and abilities in grades 9-12 at high schools in the Greater Boston area.  Registration will open September 1, 2016.
Teachers who register their school will receive a variety of resources including competition protocol and curricular materials created by the Huntington Theatre Company's Education Department, based on our August Wilson residency program, to help integrate the competition into their curriculum, guide them in teaching a play by August Wilson, and coach students' monologue preparation.
The Huntington Theatre Company's August Wilson residency program is a partnership with ten Boston high schools:  Another Course to College, Brighton High School, Boston Day and Evening Academy, Codman Academy Charter Public School, Dorchester Academy, Edward M. Kennedy Academy for Health Careers, English High School, John D. O'Bryant School of Mathematics and Science, McKinley South End Academy, and Snowden International School at Copley.  Each school receives a 6-8 week residency in which Huntington Theatre Company staff and teaching artists visit classrooms once per week to introduce students to Wilson's life and work, and teach lessons in textual analysis, voice, movement, and characterization. Each school's residency culminates in a school-wide competition in January to select a winner to represent their school in the Boston regional finals.
Boston Teachers on the August Wilson Monologue Competition
"My students learned that theatre is a powerful communicator of history and a means of social critique."
"Our school winner this year was Latina. It is not the first time a student who is not African-American has won at our school, but it always underscores the universality of Wilson's stories."
"The English Language Learners in my classes benefitted from this experience and appreciated the fact that they could excel in public speaking, even if though they were new to the language."
"I am so proud of my students who have now used their monologues to audition for other theatrical opportunities in the city."
"The class rallied around a student who was struggling and provided her with extra support on the day of the school-wide competition."
"One student's performance was so inspiring, it caused the more quiet and cautious students to volunteer. It was truly magical to watch the shy and reserved students stand up and become Rose, Vera, and Ma Rainey."
"I can't emphasize enough what it felt like as a teacher to see the power of August Wilson's language, and the power of drama to crack open the shell of some of my students' exteriors. Kids who only speak when absolutely necessary, standing up and attempting to become the character."
Boston Students on the August Wilson Monologue Competition
"I thank August Wilson for his work; it allowed me to express emotions that I've never let out before."
"This experience not only made me a better actor, but helped me take steps toward being more open and willing to speak my mind. Participating in this program has helped make me a better person."
"All the plays August Wilson wrote — you can relate to them as an African-American. The struggles people were facing — you can feel them in the plays.  Acting it out makes you feel like you were there."
"I will never forget August Wilson and the legacy that's he's left behind. I never realized the impact that he's had in theatre, literature, and just American society in general.  I encourage anyone who has the chance to participate in this program to do so, because this experience has really impacted my life."
"I stepped out of my comfort zone with this monologue — it was so powerful and is something I will remember forever."
"Working on this project has been a blessing. It has helped me learn to control my nerves and project my voice.  It is a privilege to memorize and present these stories."
"As African-Americans, we can connect a lot to August Wilson's plays. To feel like we're not misunderstood, that we have somebody who knows what happened — or what's now happening — and being able to show that to the world, in plays, is really amazing."
The Huntington Theatre Company is the recipient of the 2013 Regional Theatre Tony Award.
For more information on the August Wilson Monologue Competition at the Huntington Theatre Company in Boston, visit http://www.huntingtontheatre.org/education/august-wilson/ or contact Alexandra Smith, Manager of Curriculum and Instruction, at asmith@huntingtontheatre.org.