LeAp's August Wilson Program, now in its eighthyear, is designed to introduce high school students to the life and work of renowned playwright August Wilson. In this year-long program, led by LeAp's theater professionals, students explore Wilson's 10-play Century Cycle, a dramatic chronicle of the 20th-Century African-Americanexperience, and examine important social issues and historical events. After selecting a monologue, students receive coaching in presence, connectedness, projection, and understanding of the text.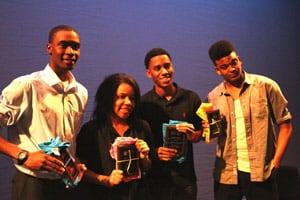 In 2015-2016 approximately 500 students in ten NYC public schoolswill participate in the August Wilson Program. An initial school competition will be held in each school and eight students will be selected from each school to compete in a preliminary competition. Two students from each school (20 students) will be selected to participate in the New York City Competition on Thursday, March 3, 2016 at the MMAC Theater in Manhattan. Following that, three students will advance to the National Competition, held at the August Wilson Theatre on Monday, May 2, 2016.
In addition the 20-session residency, students have the opportunity to attend Broadway and Off-Broadway shows, visit with actors and directors involved with August Wilson's work, and attend a tour of Brooklyn College and its theater program. According to a former participant of the August Wilson program: "I found out that I have a level of maturity that I never knew I had, and I was surprised that I was good at getting into a character who is completely opposite of who I am. I learned abouthow August Wilson used the problems of the decades to write such powerful pieces, and I have a better understanding of how the struggles of African Americans have changed yet stay the same."
The National August Wilson Monologue Competition was created by Kenny Leon and Todd Kreidler of True Colors Theatre Company, who collaborated with August Wilson on his work.
Any questions should be directed to Samuel Doyon, Program Manager at samuel@leapnyc.org. For more information, please click here.