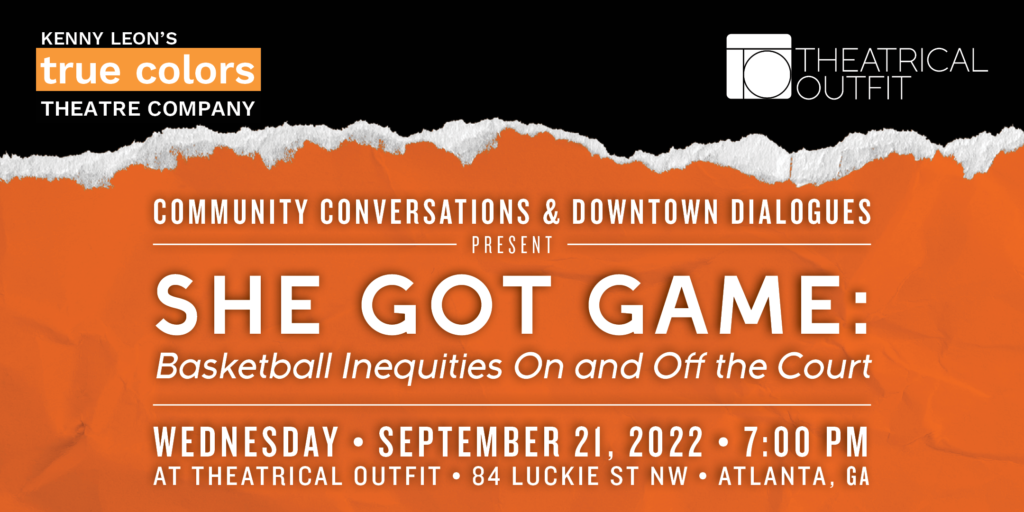 True Colors Community Conversations and Theatrical Outfit Downtown Dialogues Present
SHE GOT GAME: Basketball Inequities On and Off the Court
Wednesday, September 21, 2022 at 7 pm
Location: Theatrical Outfit (84 Luckie St. NW, Atlanta, GA 30303)
Join True Colors and Theatrical Outfit for an in-depth conversion about gender equality in sports and what it takes to bring sports to the stage. Led by Addae Moon (Associate Artistic Director of Theatrical Outfit), this panel will feature various artists and scholars on this topic. It will also include performances by Hailey Elizabeth, cast member of Theatrical Outfit's "Flex," and LaNiyah S.K. Grovell, the 2022 Atlanta Regional Finals winner of True Colors' Next Narrative Monologue Competition. This one night only event is sure to have you thinking deeper about the successes and inequities women face on and off the court.
And to enjoy Theatrical Outfit's excellent production, the theatre is offering our patrons a special discount! Just enter the code "dribble" for $10 off regularly priced tickets (excludes Preview and Opening Performances). Visit the Theatrical Outfit website for tickets: https://www.theatricaloutfit.org/shows/flex/
Hailey Elizabeth:
Hailey Elizabeth (Starra Jones in FLEX) makes her Theatrical Outfit debut. She played Donna Cunningham in the attempted premiere of FLEX at Actors Theatre of Louisville and played Sidney Brown in the reading of FLEX at Theatre Squared. Other theatre credits include Chicken Little Shop of Horrors at Occidental Children's Theatre; Tea at EPOD Theatre Company; HAIR'itage at The Actors Fund; Daughters of Troy Project at Dixon Place; Black Panther Women at Shades of Truth Theatre; and Nisikilize at Dramatic Adventure Theatre. Television credits include Leslie Schraeder in The Resident (FOX) and Renee Bailey in Long Slow Exhale (Spectrum Originals). She received her B.A. in Theatre from Occidental College and studied conservatory for a semester at the London Dramatic Academy.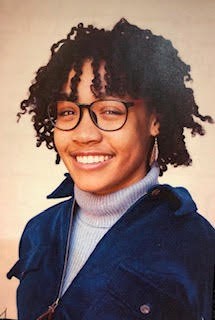 LaNiyah S.K. Grovell:
LaNiyah S.K. Grovell is SO excited to be a part of "She Got Game: Basketball Inequities On and Off the Court"!! She is proud to have been the first-place state-wide winner as well as the second-place nation-wide winner of the Next Narrative Monologue Competition, and is thrilled to continue working with True Colors !! As a Georgia native, LaNiyah has been performing in musicals & plays at various venue in Atlanta, including the Tony Award Winning Alliance Theatre. Some of her favorite roles include Matron Mamma Morton (Chicago), Motormouth Maybelle (Hairspray) and being a part of the ensemble cast of The Palefsky Collision Project. Her appreciation & dedication to theatre comes from her #1 fan (and mother) Shauna C. Grovell. A freshman at Brandeis University in Massachusetts, she is ecstatic to continue pursuing her love of theatre as a theatre major!