As part of our 2020-21 Season – "Joy and Pain" – True Colors Theatre will be expanding its work of amplifying Black Voices by increasing the reach of established Black Artists nationally and commissioning new works from emerging Black Artists locally.
GIVE TODAY
AMPLIFY BLACK VOICES
In our time off the stage, we have been creating free virtual content uplifting Black voices, truths, stories and lives. As we move toward the possibility of getting back on stage, your gifts will be more important than ever. Mailchimp will match donations up to $40,000 dollar-for-dollar, doubling the impact of your gift!
New Page Commissions
Commissioned Works for Mid-Career Artists
Commissions to three local mid-career playwrights to create one-hour long plays intended for the digital space. At the conclusion of each play, True Colors Theatre will host a talkback to provide each playwright with real-time audience and professional feedback.
Dihvinely Konnecked Commissions
Micro-Commissions for Early Career Artists
Commissions to 10 early-career artists from a variety of artistic disciplines. Artists selected by a panel of local established artists from various disciplines. Final presentations from artists will be shared on our social media channels.
DIHVINELY KONNECKED COMMISSIONS
MEET THE FELLOWS
As part of the Next Narrative initiative, True Colors launched the Dihvinely Konnecked (DK) Commissions program intended to identify, center, and interweave emerging Black artists into our rich and accomplished network of talent. True Colors commissioned ten early-career Atlanta based artists to produce a five minute digital interpretation of the Joy and Pain theme.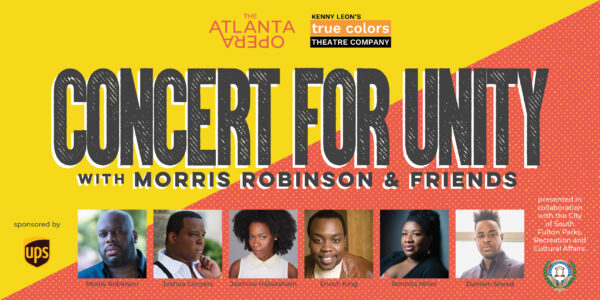 "CONCERT FOR UNITY"
A COLLABORATION OF TRUE COLORS THEATRE AND THE ATLANTA OPERA
Sunday, May 9th, 2:30pm-3:30pm
Southwest Arts Center
Join The Atlanta Opera and True Colors Theatre Company for "Concert for Unity," a free outdoor Mother's Day concert featuring Black opera stars led by Atlanta Opera Company Player Morris Robinson, presented by the City of South Fulton Parks, Recreation and Cultural Affairs.
THE RIGHT TO THE STAGE
ACCESS FOR OUR YOUTH
Thursday, April 29th, 7:00pm-8:30pm
Streaming Live on YouTube
True Colors Theatre Company is proud to present The Right to the Stage: Theatre for our Youth, in partnership with the Atlanta Music Project. Disparities in education, especially for African-American communities, has been an ongoing challenge and this has been especially true in the arts. This timely Community Conversation will feature leading voices who are on the front lines of the fight to ensure that a child's zip code or background does not determine their ability to engage with the arts.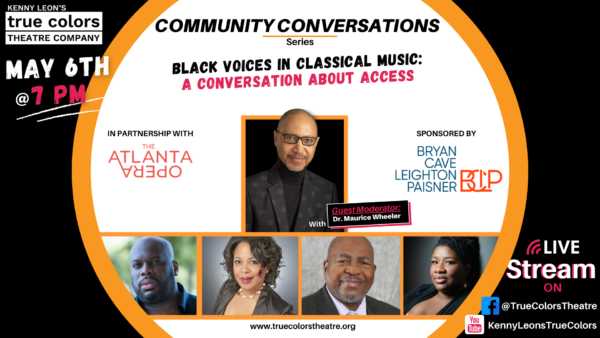 BLACK VOICES IN CLASSICAL MUSIC
A CONVERSATION ABOUT ACCESS
Thursday, May 6th, 7:00pm-8:30pm
Streaming Live on YouTube and Facebook
True Colors Theatre Company is delighted to present a timely Community Conversation on access to professional opportunities for Black opera singers, in partnership with The Atlanta Opera. In this time of cultural awareness and cultural upheaval, there is a call for greater representation and visibility on our stages, including on the grand opera stages of our country.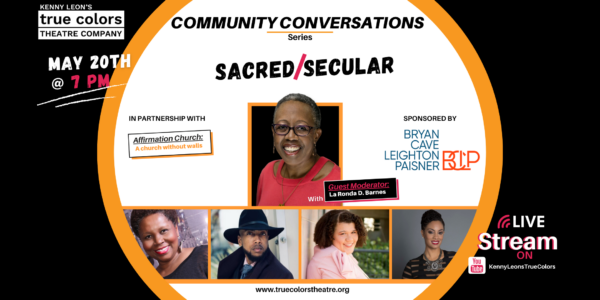 SACRED / SECULAR
IN PARTNERSHIP WITH AFFIRMATION CHURCH: A CHURCH WITHOUT WALLS
Thursday, May 20th, 7:00pm-8:30pm
Streaming Live on YouTube
True Colors Theatre is joyful to partner with Affirmation Church for Sacred/Secular, an essential Community Conversation on the historical intersection of sacred and secular music, especially in the black community, and the barriers of acceptance for those who view secular sounds as interwoven with sacred sounds.
52 WEEKS OF WOMEN
2019 – 2020 SEASON
Kenny Leon's True Colors Theatre Company is proud to present "52 Weeks of Women," which will complement True Colors' 17th season: She Griots. In his first year as Artistic Director at True Colors, Jamil Jude curated this season to uplift Black women, who are among the most historically underrepresented faces in regional theatre, both on and off the stage.
With this year-long celebration, we will recognize a different "shero" on our website and on social media, sharing their stories and honoring their impact in the community. Each Wednesday, a new honoree will be featured.
About
TRUE COLORS THEATRE COMPANY
Kenny Leon's True Colors Theatre is a nonprofit theatre based in Atlanta, GA. The name True Colors Theatre Company reflects a promise to search for truth and clarity. True Colors Theatre Company's mission is to celebrate the rich tradition of black storytelling while giving voice to bold artists of all cultures.
Dear True Colors family, due to the current coronavirus (COVID-19) situation and in keeping with CDC recommended measures, our team will be telecommuting until further notice. If you need to reach any of us, please visit the staff page here. We are responding to emails and checking our office voicemails. Thank you for your patience as we all work through this difficult time. We have been collecting resources for members of our community affected by the current economic struggles and global uncertainty, which can be found here. We appreciate you and encourage you to be well!