As part of our 2020-21 Season – "Joy and Pain" – True Colors Theatre will be expanding its work of amplifying Black Voices by increasing the reach of established Black Artists nationally and commissioning new works from emerging Black Artists locally.
GIVE TODAY
AMPLIFY BLACK VOICES
In our time off the stage, we have been creating free virtual content uplifting Black voices, truths, stories and lives. As we move toward the possibility of getting back on stage, your gifts will be more important than ever. Mailchimp will match donations up to $40,000 dollar-for-dollar, doubling the impact of your gift!
New Page Commissions
Commissioned Works for Mid-Career Artists
Commissions to three local mid-career playwrights to create one-hour long plays intended for the digital space. At the conclusion of each play, True Colors Theatre will host a talkback to provide each playwright with real-time audience and professional feedback.
Dihvinely Konnecked Commissions
Micro-Commissions for Early Career Artists
Commissions to 10 early-career artists from a variety of artistic disciplines. Artists selected by a panel of local established artists from various disciplines. Final presentations from artists will be shared on our social media channels.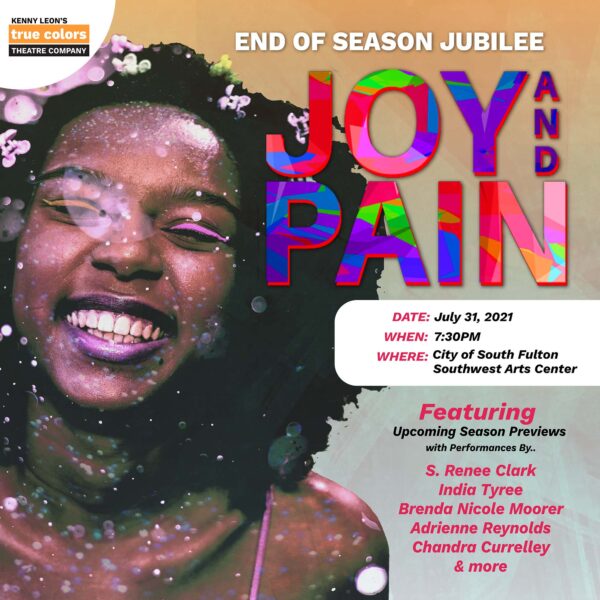 END OF SEASON JUBILEE
Joy and Pain Season
Date: Sat, July 31, 2021
Time: 7:30 PM – 10:00 PM
Location: City of South Fulton Southwest Arts Center
Performances to include upcoming season previews featuring S. Renee Clark , Adrienne Reynolds, India Tyree, Brenda Nicole Moorer, Chandra Currelley and various artists from the Joy and Pain Season. DJ Do Wit will play into the evening.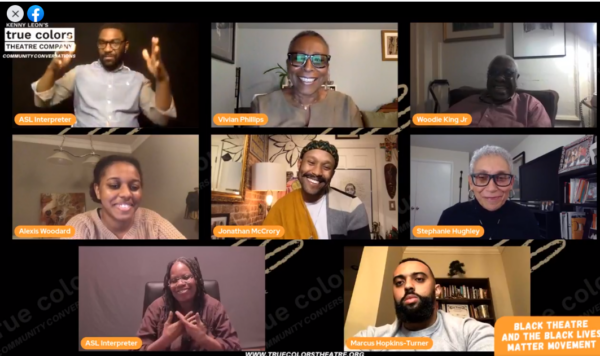 COMMUNITY CONVERSATIONS
2020 – 2021 Series
This season at True Colors, we have explored the dichotomy of joy and pain within the Black experience through a number of in-depth and illuminating Community Conversations. If you missed any of these great conversations, which include performances by talented actors and musicians, then click on the link below to explore our archives. Sit back and enjoy!
About
TRUE COLORS THEATRE COMPANY
Kenny Leon's True Colors Theatre is a nonprofit theatre based in Atlanta, GA. The name True Colors Theatre Company reflects a promise to search for truth and clarity. True Colors Theatre Company's mission is to celebrate the rich tradition of black storytelling while giving voice to bold artists of all cultures.
Dear True Colors family, due to the current coronavirus (COVID-19) situation and in keeping with CDC recommended measures, our team will be telecommuting until further notice. If you need to reach any of us, please visit the staff page here. We are responding to emails and checking our office voicemails. Thank you for your patience as we all work through this difficult time. We have been collecting resources for members of our community affected by the current economic struggles and global uncertainty, which can be found here. We appreciate you and encourage you to be well!