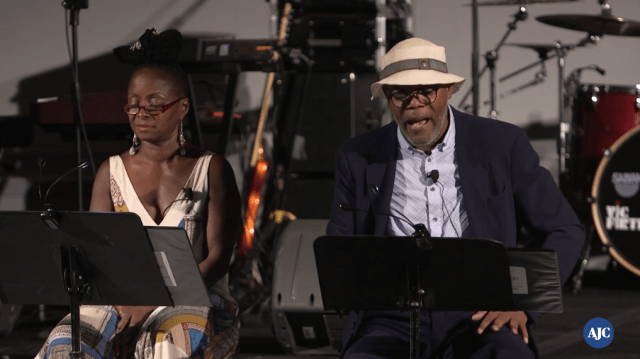 Spring Play Reading Series: The Griot
April 25, 2019

-

April 26, 2019

|

FREE

Kenny Leon's True Colors Theatre Company is excited to announce the line-up for our annual Spring Play Reading Series. The theme of this year's series is "The Griot." The West-African Griot, the storyteller, is the holder of the stories of a people and the preserver of culture and traditions. As the Trans-Atlantic Slave Trade ripped people from their native lands and brought about a mix of disparate people, the Griot helped to unite the stories of the various communities and helped them preserve their heritage. In the tradition of the Griot, we will remember and reflect on the past as we ideate the ways in which we wish to change and impact the future.
---
Thursday, 4/25/19 at 7:30 PM
The African Company Presents Richard III, written by Carlyle Brown
Directed by David Koté
Venue: 7 Stages | 1105 Euclid Ave NE, Atlanta, GA 30307
40 years before the Civil War, William Henry Brown, a free black American, organizes a production of Shakespeare's Richard III for a predominantly black audience. But in doing so, Brown challenges the leading producer of New York City, Stephen Price, who has secured the famous English actor Junius Brutus Booth to play Richard III at his Park Theatre. As Brown fights for the right of his company to present Shakespeare, his African Grove Theatre Company fights within their ranks, questioning the appropriation of English drama for African-American actors and the racial implications of such a move. Based on the true story of the first African-American theatre company, Carlyle Brown's The African Company Presents Richard III carries a timeless message of negotiating racial consciousness in theatre that still resonates for actors and audiences today.
---
Friday, 4/26/19 at 7:30 PM
Untitled Adinkra Play, written by Gabrielle Fulton
Directed by Jamil Jude
Venue: Fulton County Arts and Culture Aviation Community Cultural Center | 3900 Aviation Circle, NW, Atlanta, GA 30336
An African American couple, Will and Charity-Grace, are the hopes and dreams of the diaspora. The "talented tenth," they are a successful power couple. That is, on the outside – within the relationship, they're barely recognizable to one another. Their marriage is on the brink of failure when an old friend, their Ghanaian host brother (Kwaku) from their college study abroad, appears on the doorstep for a visit and turns their relational orientation on its head. The currently untitled play utilizes the aesthetic features, ideas, proverbial meanings and messages communicated in Adinkra symbology of West Africa to explore authenticity within relationships while exploring the Western roots of homophobia.
---
Saturday, 4/27/19 at 7:30 PM: Canceled 
This is an exciting opportunity to join us for a live reading by professional actors and directors. This Series is FREE and open to the public.